Andrew Hans Peterson (3 August 1878 – November 1953) was a charter member of Tzouhalem Chapter, No.26. He was elected a member of Temple Lodge, No. 33 by Initiation at the Regular Lodge Meeting of 2 February 1901 and was initiated at the same meeting. He was Passed to a Fellow Craft on 16 February 1901.
He was Raised to a Master Mason in 1901 and went immediately into the chairs, serving as Senior Deacon in 1901, Junior Warden in 1902, Senior Warden in 1903, and Worshipful Master in 1904 and in 1920. He was also a Past District Deputy Grand Master. Andrew Hans Peterson became a charter member of Tzouhalem Chapter, No. 26, R.A.M.in 1928.
It cannot escape comment that a Brother who went from Entered Apprentice to Worshipful Master in four years, in a Lodge whose membership included some of the leading figures in local commercial and public life at the time, must have had some readily recognized and obvious talents.
Andrew Hans Peterson was very involved in the Cowichan Valley's commercial and public life. He was instrumental in forming the Duncan volunteer fire department and in 1905 was elected fire chief.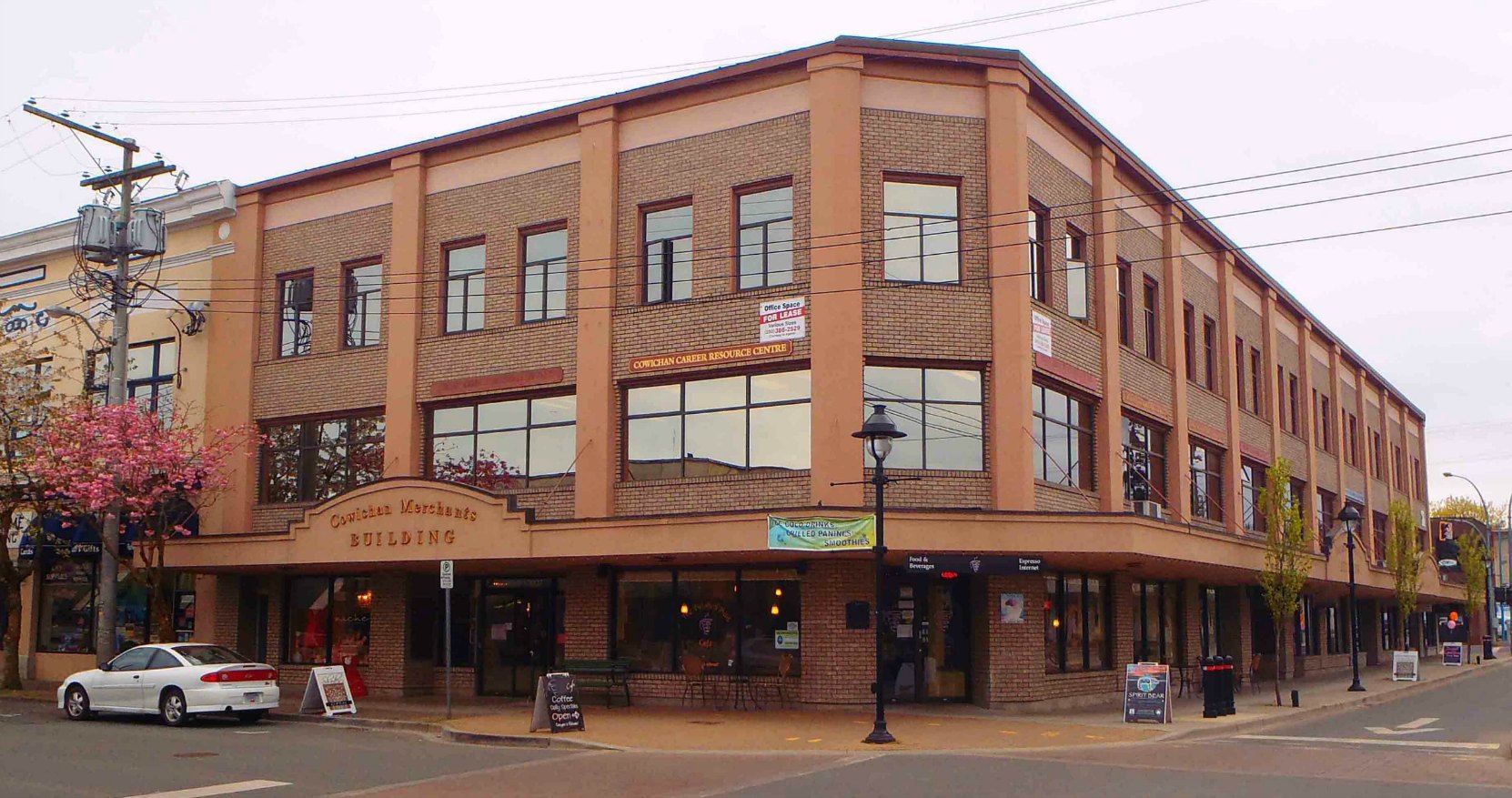 In business, he formed a partnership with Thomas Pitt in a general store and retail mechandising business under the name Pitt & Peterson, with a store (the building was demolished in 2015) on the northeast corner of the Station Street/Craig Street intersection in downtown Duncan.
In 1909, Pitt & Peterson was renamed Cowichan Merchants Ltd. and brought in a third partner, William Penn Jaynes.
Cowichan Merchants Ltd. built the Cowichan Merchants Building in downtown Duncan as its business premises. In its day, Cowichan Merchants Ltd. was Vancouver Island's largest department store outside Victoria. At that time, it was certainly one of the largest and most successful businesses in the Cowichan Valley.
Andrew Peterson's father, Johann Henry Peterson, was also a member, and Past Master, of Temple Lodge No.33. His brother, Eide Henry Peterson, was also a member and Past Master of Temple Lodge, No.33.
In 1903, Temple Lodge, No. 33 Charter member and Past Master, Samuel Robinson, a building contractor, built a house for Andrew Peterson which still stands at 126 Ingram Street in downtown Duncan. The house is now a City of Duncan heritage Building known as The Green Door and contains several offices, including the local constituency office of the local Member of Parliament.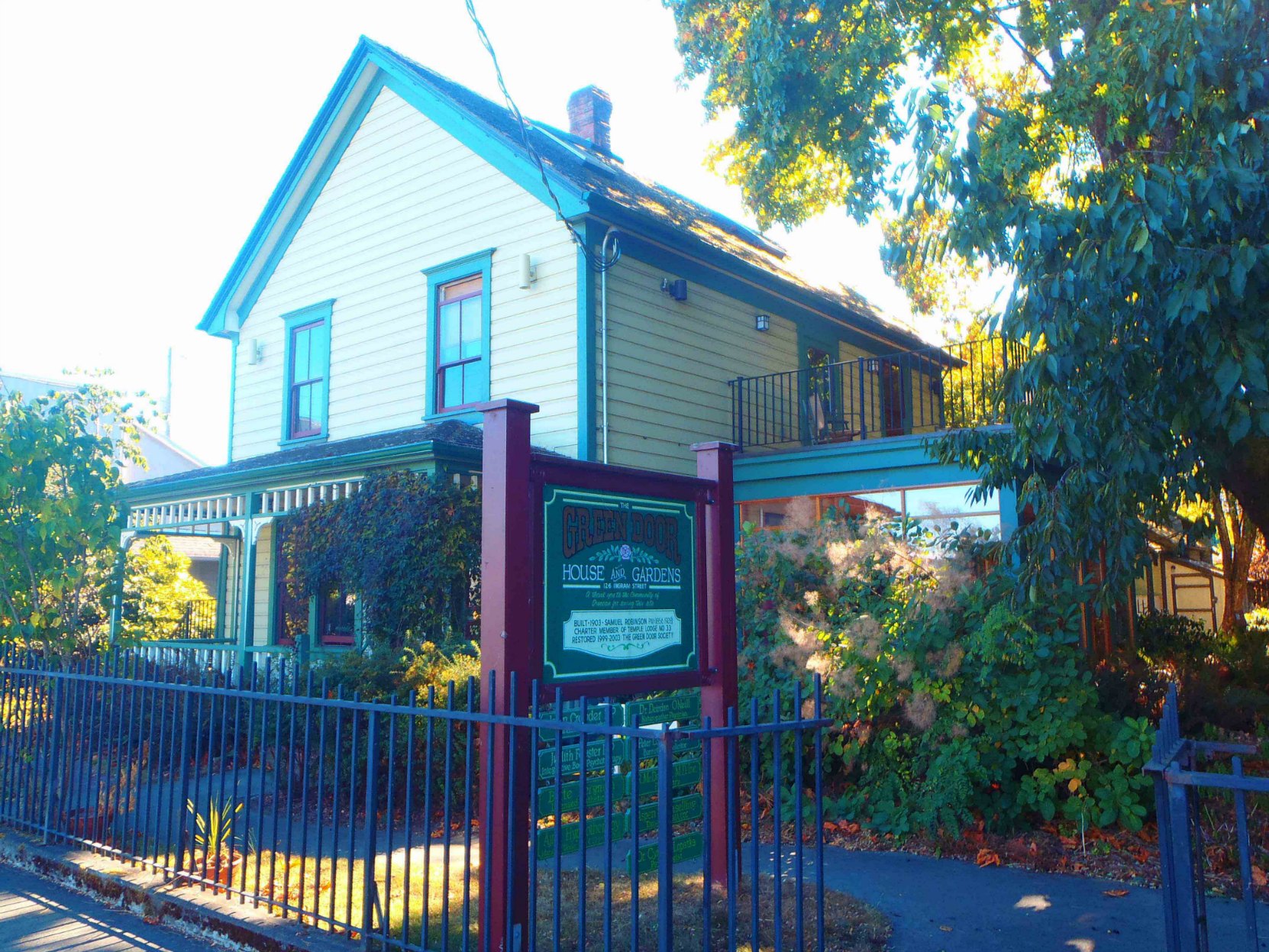 Here is a brief biographical sketch of Andrew Hans Peterson taken from his obituary in the Cowichan Leader newspaper:
"Peterson – Death last week in Vancouver removed a Duncan pioneer who had contributed to the growth of this community in many fields, chiefly the mercantile.
Mr. Andrew H. Peterson, 75, died on Wednesday morning and was buried there on Friday afternoon, near his late wife, the former Agnes Grassie, who predeceased him two years ago.
Mr. Peterson was born at Port Blakely, Washington on August 3, 1878, the son of John H. And Sophie Dorothy Peterson. He was educated at Port Townsend in the same State.
His business life in Cowichan began here 55 years ago, on his birthday, in 1898, with the late Harry Smith, founder of The Leader. With his brother in law, the late Thomas Pitt, Mr. Peterson bought out Mr. Smith's interest in their store and carried on the business as Duncan Emporium.
This continued until 1909 when the Cowichan Merchants was begun as an amalgamation of Pitt & Peterson and the late W.P. Jaynes, another pioneer merchant.
Cowichan Merchants owned and operated the building which is now the T. Eaton Co.'s Duncan branch. Mr. Peterson's association with the district's first large department store continued until the depression years of the thirties. For some years he operated a hardware store.
He subsequently developed a keen interest in agricultural marketing and became the first member for Vancouver Island of B.C. Coast Vegetable Marketing Board. He moved to Vancouver in 1938.
A stroke laid him low some months ago and his condition steadily grew worse.
Mr. Peterson will long be remembered for his many activities. His leading position in the developing Cowichan community was demonstrated in may organizations, and even perhaps by a nickname "Judge" he acquired some years ago.
He was a charter member and past president and secretary for many years of the Duncan Board of Trade, now Duncan Chamber of Commerce.
He was also a past president and charter member of the island group now known as the Associated Chambers of Commerce of Vancouver Island.
He was first president of Duncan Rotary Club.
Mr. Peterson was also a member of the committee which arranged for the incorporation of the City of Duncan, although he was an unsuccessful candidate for alderman in the first [municipal] election.
Fire protection also had a devoted friend in Mr. Peterson. He was a member of the first fire brigade, the Alderlea brigade, organized in 1902, and a past fire chief.
He was a life member of Cowichan Agricultural Society and a past president of this district-wide organization. He served as a society director for over 35 years. He attended his first exhibition in Duncan in 1898.
Mr. Peterson was also instrumental in reorganizing the newspaper in Duncan, helping to form the former Cowichan Leader Printing & Publishing Co., of which he was first secretary and with which he was associated for a number of years. [note: the editor and publisher of the Cowichan Leader during this time was Hugh George Savage, also a member of Tzouhalem Chapter, No.26 and Past Master of Temple Lodge, No.33]
Sports also felt his guiding hand. He was a past president of the Cowichan Golf Club and a keen player for many years. In his youth he was captain and pitcher of Duncan baseball teams in the early 1900s.
Mr. Peterson was a life member of the Masonic order and served as master, 1905 and 1921, of Temple Lodge, No. 33, A.F. & A.M. he was a past district deputy grand master and a past Z of the Royal Arch Masons.
In religion he was a Protestant. In politics he was an independent.
Mr. Peterson was married on October 5, 1904, his wife being a daughter of Duncan pioneers, the late Robert and Mrs. Grassie. He leaves one son, Kenneth, Alert Bay, and one daughter, Margaret (Dela), Mrs Ross, Vancouver; one brother, Mr. E.H. Peterson, Sahtlam; and two sisters, Mrs. Sophia Reid, Sacramento, Cal., and Mrs. Lou Burnett, Vancouver.
The funeral was conducted by the Rev. W.F. Burns, Duncan. Several of the brethren from Temple Lodge attended. The graveside service was according to Masonic rites.
Honorary pallbearers were: Messrs. C.W. O'Neill, W.B. Powel, George H. Savage, W.B. Harper, C.A. Green and R.G. Cairns."
(Source: Cowichan Leader, 5 November 1953 – from Cowichan Valley Museum & Archives collections)